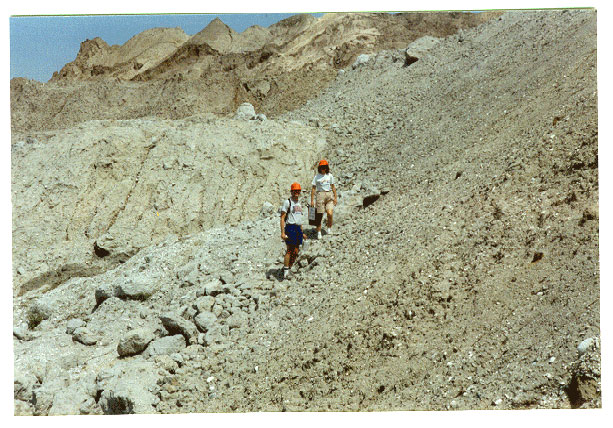 Geologic time is the immense span of time that has elapsed since Earth first formed- almost 5.5 billion years ago-to recent times. The geologic time scale is a way of putting Earth's vast history into an orderly fashion, giving a better perspective of events. At the turn of the nineteenth century, William Smith, an English Canal Engineer, proposed that the lowest rocks in a cliff or quarry are the oldest, while the highest are the youngest.
By observing fossils and rock type in the various layers, it was possible to correlate the rocks at one location with those at other location. These finding along with the first discoveries of dinosaur fossils, led to a framework that scientist still use today to divide Earth's long history into geologic time scales.
What are the geologic time scales?
The table below is a listing of the geologic time table based on current interpretations of rocks and fossils:
Era

Period

Epoch

Years Ago

Cenozoic

Quaternary

Holocene

Recent

Pleistocene

1.7 million to 10,000

Tertiary

Pliocene

Miocene

Oligocene

Eocene

Paleocene

5-1.7 million

23-5 million

34-23 million

55-34 million

65-55 million

Mesozoic

Cretaceous

Jurassic

Triassic

145-65 million

215-145 million

248-215 million

Paleozoic

Permian

Carboniferous

Devonian

Silurian

Ordovician

Cambrian

286-248 million

360-286 million

408-360 million

438-408 million

505-438 million

570-505 million
What are the Paleozoic, Mesozoic, and Cenozoic eras?
The divisions between the eras on the geologic time scale represent major changes on earth. The division between the Pre-Cambrian and Paleozoic, about 543 million years ago, represent an increase of life on earth. The division between the Paleozoic and Mesozoic represents a major decrease in plant and animal species about 250 million years ago. It is also called the "Permian Extinction", or the "Great Dying," in which up to 90 percent of all species died out.
The division between the Mesozoic and Cenozoic, about 65 million years ago, also represents a major extinction of plant and animal species, including dinosaurs.
Final Thoughts
If you found this blog post interesting and would like to know more about various prehistoric time scales and how dinosaurs became instinct – stay tuned for more upcoming blog posts. Buried Treasure Fossils is your one stop destination for all things fossil related. If you are looking for dinosaur bones clip art or dinosaur fossils art; you've come to the right place. Check out our vast collection of dinosaur fossils and clip arts.