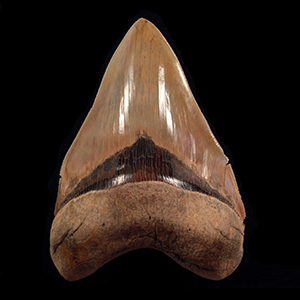 Buried Treasure Fossils offers an excellent selection of quality Megalodon teeth for sale. The Megalodon shark was the largest shark that ever lived reaching lengths of 60 feet. This megatooth shark lived during the Miocene and Pliocene. Megalodon teeth have serrated cutting edges without side cusps. Megalodon teeth can be quite large and exceed 7 inches, but rarely exceed 6" to 6-1/2". We offer several Megalodon teeth for sale over 6 inches. These large teeth plus the highest estimated bite force of any animal (up to 180,000 newtons) allowed the Megalodon to bite through massive prey. The diet of an adult Megalodon consisted of whales and other large marine mammals.
We also offer Megalodon teeth from a wide selection of localities including Florida, Georgia, Lee Creek, No. Carolina, So. Carolina, Sharktooth Hill (California), Chile and Peru. Authenticity guaranteed.
Be sure to see our great selection of Megalodon ancestors as well - Chubutensis, Angustidens, Auriculatus, and Earlier Megalodon Ancestors.
Megalodon Shark Teeth for Sale