Buried Treasure Fossils - High Quality Shark Teeth and Fossils for Sale
*** BT Fossils Special - Free Shipping for orders of $100 or more. Only few days left - target Dec. 19 or 20 for US PM shipping. Don't wait. Happy Holidays! *** Gift Idea link
Welcome to our new website! See our December FOTM selections include a rare sloth claw , a 4" T. rex tooth, (2) XL Parotodus, (2) Gem LC Chubutensis, and an XL Chilean GW and GW transition tooth! November 2017 Fossil of the Month offering two incredible, rare Archaeocete "yoke" teeth and a special "Trident Comura" spiny trilobite. Our October FOTM a Top Quality 6-3/16" SC Megalodon tooth and a GEM Gompheotherium tooth. Also see our July 2017 offering - an ultra rare Top Quality 6-1/8" Lee Creek Megalodon tooth! It may be years before I find another one! Recently added T. rex and Nanotyrannus teeth, coprolites, brachiopods, incredible Moroccan spiny trilobites, Carcharodontosurus, Spinosaurus, and Abelisaurid ("raptor") teeth, fantastic Archaeocete teeth, crocodile teeth, Brittle Stars, crinoids, Otodus teeth, Eocene shark teeth from Kazakhstan (5 species), rare Mosasaur teeth & jaw sections plus plesiosaur teeth, cave bear fossils, modern GW teeth, pine cones, Chilean Hexanchus (Cow shark) teeth, SC Megs, big Harleyville Auriculatus teeth, colorful Peruvian Mako teeth, new GEM Georgia Meg, an ultra rare 6-1/2" Cuban Megalodon tooth, colorful Sharktooth Hill I. Planus Mako teeth, ~80 Peruvian & Chilean Great White teeth (old inventory!), a 5-7/8" rooted T. rex tooth, fossil fish, and top quality seal, dolphin, whale, and Sharktooth Hill Mako & Saw shark teeth. Lots of new items posted and more coming ; see - Latest Updates . Get them while they last. Have a look!
Shipping time reminder for delivery prior to Christmas -
Priority Mail (US) - Dec. 20
PM Express (US) - Dec. 22
International First Class - Dec. 14 (allow 10 days)
*** Note - Free shipping excludes international orders of books, frames, and a few other heavy items. I will apply all discounts prior to processing orders. International orders - please inquire about postage cost for orders under $100 that include multiple items. Webseite may over calculate postage.
Read this blog to know the facts associated with Trilobites in Paleozoic Era. Buried treasure…
If we start thinking about dinosaurs from our perspective in the 21st century, they are terrifying…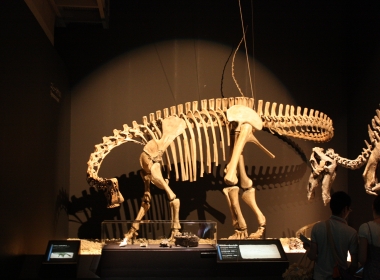 Sharks lose thousands of teeth while they are alive, and constantly grow new ones in due course .…