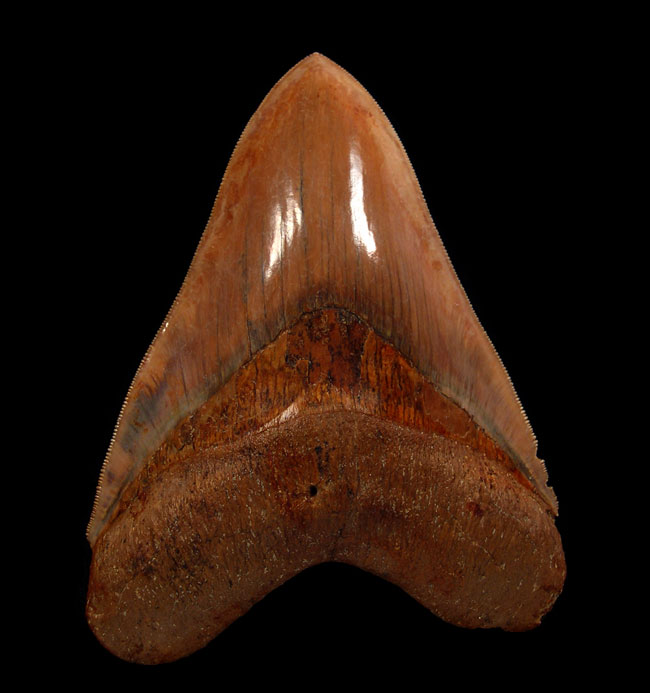 Carcharocles megalodon
A May 2020 new addition to our Megalodon teeth selection - top quality Megalodon teeth from West Java, Indonesia. As we continue to see many of our favorite Megalodon hunting sites dry up – Chile, Peru, Lee Creek, Bone Valley mines, etc., the West Java Meg teeth are a "breath of fresh air". They offer brilliant colors and patterns, incredible serrations, and good size. Great news for the Megalodon collectors. Megalodon teeth from a new site worthy of any collection.
This catalog contains exceptional teeth from the extinct Giant White shark - C. megalodon. These teeth are found in limestone deposits in West Java, Indonesia. They will come in a range of colors and most teeth will exhibit some form of color patterning. They are very showy teeth with incredible serrations. Middle Miocene age (10-15 million years ago). These West Java Megalodon teeth are the real deal and they are definitely among my personal favorites. Much nicer than the Sumatran and other Indonesian Meg teeth that surfaced in the past few years.
The West Java teeth are all hand dug by local miners. Teeth are found in hillsides, stream beds, natural cave walls, etc.; where ever the Kaliupuang limestone outcrops. The large amount of limestone that must be dug to find one Meaglodon tooth which makes these teeth rare. Unfortunately, the large amount of required digging also means many of the teeth are struck by tools during the digging process. Also, the acidic soil conditions in this tropical environment will damage the roots. Finding a perfect tooth is very rare and highly prized.