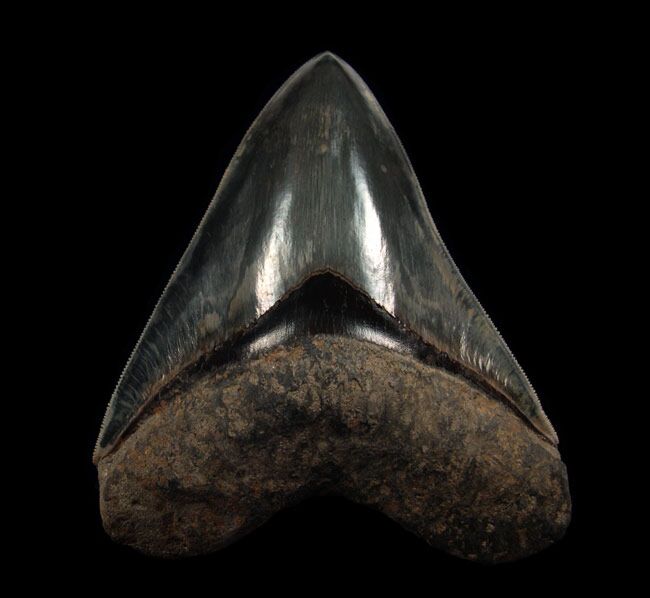 Like dinosaurs, Megalodon sharks are a mystery to us. We know little about these ancient, massive ocean-dwelling creatures, but what we do know for sure is that these were the largest sharks to ever existed.
Courtesy of the teeth-shedding system, which is also standard for modern-day sharks, paleontologists have gathered much information about this extinct species, including their average age, diet, locations, and more.
A Megalodon shark had approximately 275 teeth arranged in rows in each jaw. They shed plenty of teeth for collectors to find on beaches. But finding megalodon shark teeth is not a piece of cake.
Megalodon shark teeth can be of any color, including black, which makes hunting for Meg teeth even more challenging. But why do Megalodon shark teeth are black or any other color, for that matter?
Shark teeth of all species are white like human teeth. When a shark sheds its tooth, it turns black over the years due to fossilization. So, when you find a black tooth while hunting for shark teeth, you can say it's already been fossilized, and its owner has been dead for thousands or millions of years.
How does a Megalodon shark tooth become a fossil?
Permineralization is a process that turns a shark tooth into a fossil. When a shark dies or loses its teeth, they sink to the bottom of the ocean and get buried by sediments over time. Lack of oxygen in sediments prevents decomposition by bacteria and keeps specimens preserved.
Accumulated sediments build pressure over buried teeth and force mineral-bearing water into the pores. Some compounds in teeth get dissolved and replaced by minerals like calcite and silica, depending on the water's pH level. These minerals, settled within pores, crystallize and turn teeth into fossils.
The fossilization process is extremely long and can take more than 10,000 years to complete. Although fossils are old, you can't simply tell the approximate age of teeth from their color. Shark teeth get colored or turn black due to the sediment's chemical composition during fossilization.
What changes the color of Megalodon shark teeth?
Megalodon shark teeth are not always black; they can also be gray, brown, yellow, orange, or red. Bleaching and leaching, many times, turn a fossilized tooth back to white or creamy.
Meg teeth get their color from the deposits in which they were formed, or better to say, fossilized. What color a tooth will turn into depends on the chemical composition of the sediments. Iron-rich sediments, for instance, turn white shark teeth red, orange, or brown over the years. Clay and limestone give teeth grayish yellow or green colors, and phosphate deposits produce black shark teeth.
How to find Megalodon shark teeth?
Finding a fossilized megalodon tooth can be challenging. If you want a black Megalodon tooth, look for black pointy objects on the beaches. You may also find some black shell fragments resembling shark teeth.
You can tell the difference by holding it up to the light. If it looks glossy, it's probably a tooth. Although fossilized teeth are millions of years old, they shine a little. Most shark teeth maintain structure; you can look for ridged cutting edges. In rare cases, a tooth has an intact root, which is less shiny compared to the flat part of the root.
While you can find shark teeth at hotspots, like the southeastern Atlantic coast in Georgia, Florida, Maryland, and North & South Carolina, you can't tell if they are Meg teeth unless they are 5 to 6 inches long. But if you want a black Megalodon tooth in your collection, you can purchase it from our website.