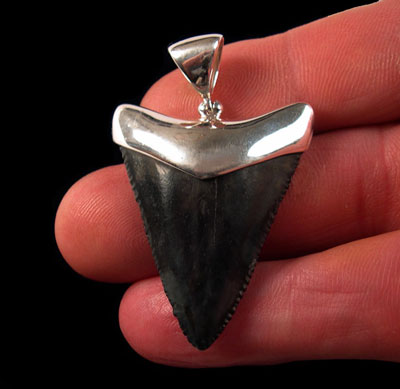 Out of all the bizarre things making the internet, including the gold chain hair by the 23-year old Mexican rap artist Dan Sur or the absurd all-black ensemble flaunted by Kim Kardashian in 2021 Met Gala, the internet is overwhelmed with the bizarre limits being pushed.
However, this blog is not going to give you updates about the Met gala. When it comes to fashion jewelry, the goal of every wearer is to look edgy, bold, cut-throat while at the same time being sophisticated, graceful, and chic. This is all the more reason why shark tooth necklaces have been garnering so much attention.
With over 400M years of survival instinct to become the ultimate sea predator, sharks are a subject of both fear and fascination. They symbolize strength, power, grace while being mystical. It's only natural why more and more people are drawn to these amazing jewelry pieces time and again. With that being said, here are five shark teeth necklaces and ornamental pieces that should be a part of your jewelry:
PERU NECKLACE
With minimalistic efforts, the golden-polish wire-wrapped great white and mako shark teeth with a leatherette necklace cord and a simple clasp packs style. Coming in nine different colors, the authentic Miocene or Pliocene fossil shark teeth carries a tasteful rustic elegance with a versatile summery essence. Whether you are looking for something to complete your beach ensemble or simply hanging out with your friends, this accessory adds a Peruvian vibe to your outfit
GREAT WHITE SHARK METAL PENDANT
If we had to describe the great white in three words, they would be bold, powerful, and edgy. Well, the same goes for this charcoal gray great white shark tooth necklace. Coming with a sterling silver cap and lope, this authentic Pliocene fossil tooth necklace makes an excellent pair for your evening wear or casual midnight hangouts.
CHILE GREAT WHITE EARRINGS
Yes! You can flaunt your shark love through earrings. This matching pair of baby Great white shark teeth from Chile make a unique addition to your earring collection. Be it a romantic date night or a party; the 4-million-year-old genuine fossil shark tooth pair knows how to gain hold of everyone's attention.
Megalodon PLIOCENE SHARK TOOTH PENDANT
This top-quality wire wrapped Megalodon shark tooth necklace from South Carolina is everything quirky. Complimented with a black-blue beaded leatherette cord with a simple clasp, this authentic Pliocene fossil Megalodon shark tooth necklace oozes carefree bohemian vibes.
SAND TIGER SHARK TOOTH PENDANT
Featuring yellow-tan beads with a 24" leather strap tied at one end, the authentic Sand Tiger shark tooth pendant sourced from south California carries a perfect beachy essence. Whether you are attending a pool party or visiting a water park, accessorizing gets only easier and convenient with this one. Want more options? Our freshly stocked shark tooth jewelry bar will help you find your fit. For the latest and authentic fossils at affordable rates, browse our drop-down menu bar now!